Another Call for project proposals focused on contemporary art and culture, as well as the promotion of bilateral exchange of contemporary art activities will be launched soon
Another Call for project proposals focused on contemporary art and culture, as well as the promotion of bilateral exchange of contemporary art activities will be launched soon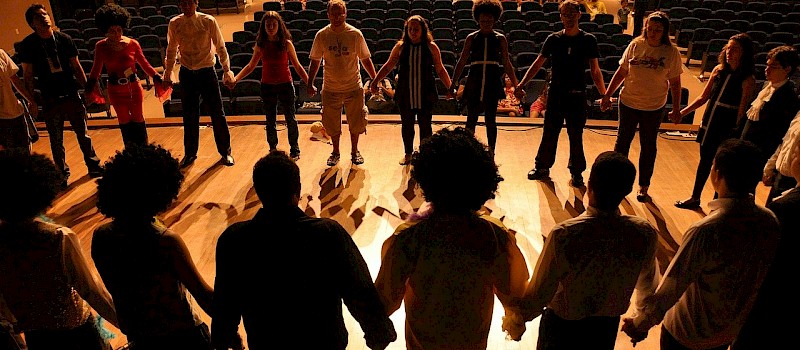 Call number: CLT03
Estimated call launching: October/November 2020
Estimated call closure: January/February 2021
The call will be launched by the Programme Operator – the Government Office of the Slovak Republic under EEA Grants
The objective of the Call CLT03 is to find projects on capacity development of cultural players and audience development addressing contemporary art and culture, as well as the promotion of bilateral exchange of contemporary art activities. The main ambition is to support high quality and professional contemporary arts activities that constitute the core of cultural and creative industries and creative economy and contribute to intelligent, sustainable and inclusive society growth.
Project grant: EUR 50,000 – EUR 200,000
Estimated total call allocation: EUR 1,500,000
Estimated date of project contract conclusion: October/November 2021
Co-financing: 
for state sector entities, co-financing is not required,
at least 5% for all other public sector entities, incl. regional and local self-governments and institutions and agencies thereof,
at least 10% for non-governmental organisations, Social Partners and other non-for-profit organisations,
at least 20% for private sector entities and other entities.            
Financing: payments of the project grant shall take the form of an advance payment, interim payments and a final payment. The level of advance payment to projects shall be set out in the project contract.
Eligible applicants: Any entity, public or private, commercial or non-commercial and nongovernmental organisations, established as a legal person in Slovakia, whose principal activity is in the cultural and creative sectors as defined in Regulation (EU) No 1295/20134 [1]
 of the European Parliament and of the Council establishing the Creative Europe Programme (2014-2020), provided that the applicant has at least one mandatory partner. Natural persons are not eligible.
Eligible partners:
Mandatory partner: Any public or private entity, commercial or non-commercial, as well as non-governmental organisations established as a legal person in one of the Donor States and whose principal activity is in the cultural and creative sectors as defined in Regulation (EU) No 1295/20131 of the European Parliament and of the Council establishing the Creative Europe Programme (2014-2020). Natural persons are not eligible.
Other partner: Any public or private entity, commercial or non-commercial, as well as nongovernmental organisations established as a legal person either in the Donor States or in the Beneficiary States, or any international organisation or body or agency thereof. Natural persons are not eligible.
Support:   Small Grant Scheme shall support projects on capacity development of cultural players and audience development, resulting in the organisation of events targeting audience's interest in culture and arts and their involvement in culture and arts, events dedicated to artistic freedom and/or freedom of expression, events focused on raising awareness about minority culture and involvement of educational institutions.
Priority shall be given to:
Projects with a strong focus on the informative and unbiased function of arts, e.g. on topics such as the promotion of human rights, gender equality, social reconciliation, history of cultural monuments, the terrors of Holocaust, the history of minorities and others
Projects targeting audience in the less developed, distant and/or otherwise disadvantaged geographical areas and communities of Slovakia
Projects targeting various target groups (e.g. young people as well as seniors)
Project contributing to equality and integration of disadvantaged groups (mainly the Roma, and other social, ethnical and other minorities)
Projects with more than one partner from the Donors States (Norway, Iceland and/or Liechtenstein)
Projects combatting current social challenges, such as radicalism, extremism and hate speech
Projects that aims on establishing residential arts centre/programmes
Projects that aim on the audience development and cultural management.
It is highly unlikely that one project will meet all the priorities of the Programme. It is also highly recommended not to try to meet all of it; otherwise, the project will be very hard to implement. For the success of the whole Programme, it is important that some projects contribute to certain priorities and other projects contribute to different ones.
Eligible activities:
The project grant can be used for the following cultural purposes and activities[2]:
(a) activities of artistic and cultural centres or spaces, theatres, cinemas, opera houses, concert halls, other live performance organisations, film heritage institutions and other similar artistic and cultural infrastructures, organisations and institutions;
(b) art or cultural events and performances, festivals, exhibitions and other similar cultural activities;
(c) cultural and artistic education activities as well as promotion of the understanding of the importance of protection and promotion of the diversity of cultural expressions through educational and greater public awareness programs, including with the use of new technologies;
(d) writing, editing, production, distribution, digitisation and publishing of music and literature, including translations.
In addition, and if necessary for the achievement of the objectives of the project, other activities might be considered eligible and funded under the de minimis aid rules.
Below please find more concrete examples of eligible activities:
Activities aimed at creation of new art works, including creative workshops and residencies;
Activities aimed at presentation, dissemination and reflection of art works (exhibitions, festivals, shows, fairs, online platforms, summer schools etc.);
Activities focused on the development and involvement of audience, or facilitating the creation of a communication strategy based on the knowledge of the target group needs;
Activities addressing current social challenges through arts;
Additional activities (workshops, conferences, seminars, consultations) aimed at specific target groups and supporting capacity building among artists and cultural organisations with emphasis on the skills in the area of cultural entrepreneurship, artistic and technical skills;
Activities aimed at publishing special issues of art journals and/or magazines with the emphasis on the "new" audience, including presentation of the issue in the less developed, distant and/or otherwise disadvantaged geographical areas and communities;
Activities aimed at cultural management (seminars, workshops, summer schools, etc.) of individual art fields;
Activities aimed at audience research (mapping, expectations, needs, etc.);
Activities on capacity building of the organization such as strategic plan elaboration, education events for people involved in the project;
Presentation, marketing and promotional activities e.g. creation and innovation of websites, internet and digital platforms, creation of digital content, creation of systems for ticket sales, advertising campaigns, preparation of publications on artistic and cultural activities of the organization.
The Programme Operator monitors the situation with COVID-19 and responds to the current situation.  The Program Operator duly considers "force majeure" cases and acts within its limits and conditions of implementation in the Beneficiary State. An appropriate help and flexibility will be taken in order to continue with smooth and successful project implementation. More information can be found on www.eeagrants.sk.
Eligible expenditures:
Except for the so-called "excluded expenditures" listed in Article 8.7 of the Regulation on the Implementation of the European Economic Area Financial Mechanism 2014-2021 ("the Regulation"), all types of expenditures can be eligible, provided that they meet the conditions listed in this Call and in Article 8.2, 8.3 and 8.5 of the Regulation.
Unless a later date is provided in the project contract, expenditures are eligible as of the date on which the Programme Operator decides to award the project grant. The Programme Operator shall in the same decision fix the final date of eligibility which shall be no later than either one year after the scheduled completion of the project or the date referred to in paragraph 3 Article 8.13 (currently 30 April 2024) of the Regulation, whichever is earlier.
The projects may involve minor investments (generally not more than 20% of the total eligible expenditures of the project), e.g. for the purchase of technical equipment necessary for project implementation.
Launch of the Open call for bilateral relations for establishing and development of the partnership for the call CLT03 is planned along with this call provided that the conditions are suitable for travelling.
The objective of this call will be the support of visits and meetings of applicants from Slovakia with their potential partners from Donor States. These activities can be funded under the Programme Bilateral Fund, which will provide small grants up to 3 500 EUR, covering mainly the related travel costs.
---
[1] OJ L 347, 20.12.2013 ('cultural and creative sectors' means all sectors whose activities are based on cultural values and/or artistic and other creative expressions, whether those activities are market- or non-market-oriented, whatever the type of structure that carries them out, and irrespective of how that structure is financed. Those activities include the development, the creation, the production, the dissemination and the preservation of goods and services which embody cultural, artistic or other creative expressions, as well as related functions such as education or management. The cultural and creative sectors include inter alia architecture, archives, libraries and museums, artistic crafts, audiovisual (including film, television, video games and multimedia), tangible and intangible cultural heritage, design, festivals, music, literature, performing arts, publishing, radio and visual arts)
[2] The events that will take place live and at the same time as an online presentation/broadcast are accepted.