PRE-ANNOUNCEMENT OF THE OPEN CALL ON THE SUPPORT OF THE RESTIORATION AND REVITALISATION OF CULTURAL HERITAGE
PRE-ANNOUNCEMENT OF THE OPEN CALL ON THE SUPPORT OF THE RESTIORATION AND REVITALISATION OF CULTURAL HERITAGE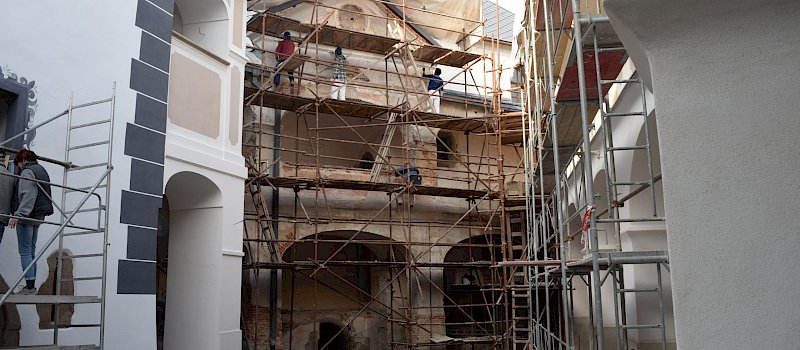 Pre-announcement of the Open Call on the Support of the Restoration and Revitalisation of Cultural Heritage (EEA Grants 2014-2021)
| | |
| --- | --- |
| Call number: | CLT01 |
| Call launching:   | JUNE 2019 |
| Call closure: | OCTOBER 2019 |
| Call allocation: | €10,539,725 |
The call will be launched by the Programme Operator – the Government Office of the Slovak Republic
The objective of the call CLT01 is to find projects on restoration and revitalisation of cultural heritage for the reuse or further use of cultural monuments and to foster their entrepreneurial potential.
Project grant: EUR 200,000 – EUR 1,000,000
Eligible applicants: Any entity, public or private, commercial or non-commercial and non-governmental organisations, established as a legal person in Slovakia. Natural persons are not eligible.   
Eligible partner: Any public or private entity, commercial or non-commercial, as well as non-governmental organisations established as a legal person either in the Donor States or in the Beneficiary States, or any international organisation or body or agency thereof. Natural persons are not eligible.
Co-financing conditions:             
for state sector entities, cofinancing is not required,
at least 5% for all other public sector entities, incl. regional and local selfgovernments and institutions and agencies thereof,
at least 20% for private sector entities, churches and other entities.
Financing: payments of the project grant shall take the form of advance payments, interim payments and a final payment. The level of advance payment to projects shall be set out in the project contract.
Expected date of the project contracts signature: the expected date of the first signed project contracts will be September 2020.
Further conditions:
Restoration works must be carried out as part of the project and on a cultural monument owned, operated or rented by the Project Promoter or Project Partner and listed on the List of national cultural monuments with priority of protection and restoration as of 31 July 2017 (available only in Slovak).
The Project Application must include justification for the project to be in line with community needs. The Project must be subject to documented consultation with local community before the Project Application is submitted or later in the project development.
Partnership agreements shall be signed with other players (such as local NGOs, service providers, schools and municipalities, etc.) before or during the project implementation.
Costs on infrastructure (hard measures)[4] must not exceed 70% of the total eligible costs of the project.
The mandatory attachments to the Project Application are the Budget and the Entrepreneurial Strategy.
Projects shall be implemented in line with applicable state aid rules.
Project grant can be used for the following cultural purposes and activities:
(a) museums, archives, libraries, artistic and cultural centres or spaces, theatres, cinemas, opera houses, concert halls, other live performance organisations, film heritage institutions and other similar artistic and cultural infrastructures, organisations and institutions;
(b) tangible heritage including all forms of movable or immovable cultural heritage and archaeological sites, monuments, historical sites and buildings; natural heritage linked to cultural heritage or if formally recognized as cultural or natural heritage by the competent public authorities;
(c) intangible heritage in any form, including folklorist customs and crafts;
(d) art or cultural events and performances, festivals, exhibitions and other similar cultural activities;
(e) cultural and artistic education activities as well as promotion of the understanding of the importance of protection and promotion of the diversity of cultural expressions through educational and greater public awareness programs, including with the use of new technologies;
(f) writing, editing, production, distribution, digitisation and publishing of music and literature, including translations.
Priority shall be given to:
Projects implemented in the less developed and disadvantaged geographical areas and communities
Projects that valorise cultural heritage, meaning that restoration of a cultural monument is a mandatory part of a project and priority is given to cultural monuments in worse condition
Projects where networks with service providers (accommodation, leisure activities, restaurants etc.) and other local players are being created
Projects with clear entrepreneurship strategy, focused on generating incomes from cultural activities
Project implemented in partnership with entities from Donor States (Norway, Iceland and/or Liechtenstein)
Projects that aims to actively involve the local community
Projects implemented in partnership or cooperation with cultural players (meeting the definition of the Creative Europe) and/or Cultural and Creative Centres
Projects that promote cultural heritage of minorities, such as Jewish, Roma, etc.
Projects combatting radicalism, extremism and hate speech
Projects involving local craftsmen in the restoration works, e.g. through training in traditional skills in restoration and crafts
Project implemented in areas with already existing touristic interest
Projects that aims on establishing residential arts centre
Projects with a strong focus on the education functions of cultural heritage
Eligible expenditures: Except for the so-called "excluded expenditures" listed in Article 8.7 of the Regulations, all types of expenditures can be eligible, provided that they meet the conditions listed in this Call and in Article 8.2, 8.3 and 8.5 of the Regulation on the Implementation of the European Economic Area Financial Mechanism 2014-2021 ("the Regulation"). Investment costs must not exceed 70% of the Total Eligible Costs of the Project.
Launch of the Open call for bilateral relations for establishing and development of the partnership for the call CLT01 is planned to the end of May 2019. The objective of this call will be the support of visits and meetings of applicants from Slovakia with their potential partners from Norway, Iceland and Liechtenstein. These activities can be funded under the Programme Bilateral Fund, which will provide small grants up to 5 000 EUR, covering mainly the related travel costs.
---
[1] For the purposes of the call "Non-governmental organization" (hereinafter referred to as NGO) is defined as a non-profit organization established as a legal entity, having a non-commercial purpose, independent off local, regional and central government, public entities, political parties and commercial organizations. Religious institutions and political parties are not considered NGOs.
[2] For the purposes of the call "Social partners" are defined as representatives of employers´ organizations and trade unions.
[3] In this case, in-kind contribution in the form of voluntary work may constitute up to 50% of the co-financing
[4] For the purposes of the Programme the infrastructure (hard measures) are defined as any activities that require a building permit/a building announcement or purchase of buildings or estates.